FREE WORLDWIDE SHIPPING OVER $100
FREE SHIPPING TO USA & CANADA OVER $40
FREE SHIPPING TO EUROPE OVER €69
100% MONEY BACK GUARANTEE
A BETTER BEARD AWAITS
Provides protection from UV sun-ray damage
Seals in moisture, stopping itch
Moisturizes deep within the follicle, promoting growth
Free of parabens & dyes
100% ORGANIC
INGREDIENTS
HANDMADE
IN CANADA
NOT TESTED
ON ANIMALS
FREE WORLDWIDE SHIPPING OVER $100
FREE SHIPPING TO USA & CANADA OVER $40
FREE SHIPPING TO EUROPE OVER €69
100% MONEY BACK GUARANTEE
A BETTER BEARD AWAITS
&nbsp&nbsp Provides protection from UV sun-ray damage&nbsp
&nbsp&nbsp Seals in moisture, stopping itch
&nbsp&nbsp Moisturizes deep within the follicle, promoting growth&nbsp&nbsp&nbsp&nbsp
&nbsp&nbsp Free of parabens & dyes&nbsp&nbsp
---
COMMON QUESTIONS
Step 1 - Pour a small circle of beard oil into the palm of your hand.
Step 2 - Gently work the oil into your beard, goatee or mustache, replenishing and rejuvenating the follicles that grow your beard.
*Best used in the afternoon, will help touch up your beard and provide natural SPF protection.
It's really very simple: If you don't start with the right ingredients in your beard care products, you won't end up with the results you desire. Note* Not suitable for people with any nut allergy
MACADAMIA OIL
this oil's fatty acids, vitamins, and antioxidants. It can help to prevent thinning hair, hair loss, and grey hair.
ALMOND OIL
Almond oil is rich in Vitamin E, potassium, zinc, proteins, and monounsaturated fatty acids. These properties are beneficial for increasing beard growth, eliminating dandruff, and reducing inflammation.
ARGAN OIL
Argan Oil is that it's rich with vitamins A, C and E, as well as being loaded with antioxidants, linoleic acid and omega-6 fatty acids. When applied externally, it can help boost cell production which results in healthier skin.
JOJOBA OIL
Jojoba is rich in vitamins and minerals that nourish hair, including vitamin C, B vitamins, vitamin E, copper, and zinc. moisturizes hair follicles, which prevents dryness that leads to hair loss.
RICE BRAN
Rice bran oil is rich in omega 3 and 6 fatty acids which help nourish the hair. If you happen to have frizzy beard, then bring this oil to your rescue by making it easily manageable.
SUNFLOWER OIL
Sunflower oil acts as a natural moisturizer because it's unfused with several vitamins and minerals, including high levels of Vitamin E that produces healthy hair growth.
AVOCADO OIL
avocado oil contains healthy doses of vitamin E and B. Vitamin E is a good ingredient because it strengthens the hair follicles and repairs damage caused by harsh chemicals that may have been from prior products.
APRICOT KERNEL
Apricot Kernel oil has oleic acid, which is an omega-9 fatty acid and a wonderful beard softener. It actually moisturizes the hairs while increasing the hydration level and reducing dryness.
JAMAICAN CASTOR OIL
Improves Hair Strength. The omega-9 fatty acid and omega-6 fatty acids in Jamaican black castor oil improve blood circulation to the facial area, thereby encouraging hair growth
ESSENTIAL OILS
Essential Oils although some have benefits to healthy hair growth, it is used primarily in our products to add scent.
We lovingly developed the best smelling, organic. all natural scents that will have your beard smelling amazing.
---
ASGARDIAN SECRET
A woodsy intricate blend of sandalwood, vanilla and bergamot to give you a sensual, soft, harmonious, and exotically rich scent that promotes a vivid and euphoric sensation.
RAGNAROK FINALE
A sweet, opulent, warm, and sharp Vanilla and patchouli base with a smoky, and woody Cedarwood and balsam earthiness.
VALKYRIE'S OUD
A sweet, vinylic, and acrid Oud scent, with pleasingly luxurious, and sensual Vanilla note and a spicy, and sweet Bergamot aroma.
ODIN'S VIRTUE
A sweet intricate blend of apple, cinnamon and agarwood (oud) to give you a sweet, warm, charmingly woodsy, and alluring scent that lasts!
VIKING HONOUR
An exotic balance of suave, creamy, buttery nuances of Bergamot and Lime that are both intoxicating, and sweet, with notes of Peppermint which invites an energetic and invigorating sensation.
FREYA'S BLISS
A mellow, euphoric and calming ocean floraly Fresh essence with a hint pine that is both refreshing and uplifting with earthy Cedarwood and harmonious Lime undertones.
VIKING STORM
Strong masculine notes of oakmoss & musk blend with the freshness of apple & patchouli, while rich amber and soft hints of vanilla sensualise & seduce.
LOKI UNSCENTED
Just as the name suggests, a very low key (Loki) and unscented blend.
USA & CANADA
Free Shipping to USA on all Orders over $40
DISPATCH
All orders are shipped directly from our warehouses within 1-2 days.
UK
Over £39 Get FREE Shipping from London,UK.
SHIPPING TIME
Your product will arrive to most destinations within 5-7 business days.
EUROPE
Over €69 Get FREE Shipping from London,UK.
RETURN & REFUND
We offer a 100% satisfaction guarantee.
Please contact us for return requests.
REST OF THE WORLD
Over $100 USD Get FREE Shipping from London,UK.
Feel free to send us an email thebeardstruggle@thebeardstruggle.com and we will happily exchange the scent for you based on the collection (silver & gold) you ordered from.
Although near impossible that you won't, but if you are not satisfied with them you can easily return them for a full money-back guarantee.
THE BEARD STRUGGLE
Day Liquid Gold Tonic (Odin's Virtue)
Grow a long, flowing beard while
conditioning your skin when you use
Day Liquid Gold Tonic (Odin's Virtue)
Customer Reviews
Write a Review
Ask a Question
Filter Reviews:
beard
smell
scents
difference
Beard Struggle
softness
time
Virtue
Odin
CK
08/09/2019
Christopher K.
United States
Liquid Gold
Overall my experience with both the Day, and Night Liquid Gold Tonic (Odin's Virtue) product from the Beard Struggle has been a glorious one. The smell is unique in comparison to other beard oils which I previously have tried from the Beard Struggle. It's bright, spicy, and long lasting. The effectiveness of this oil speaks for itself as I have no beard itch, and can feel the nourishment exude from my beard. It's truly...liquid gold.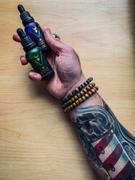 Odin's Virtue
This has been so far my favorite scent I have tried from the Beard Struggle. I cannot wait to try other scents as well. This is the first time I have ever officailly grown a beard, and I can say hands-down these products have helped far and beyond any of those walmart brands. I will deff be a repeat customer and only use the Beard Struggle Products from here on out! High Quality products and service! Keep kickin Ass you guys!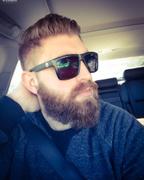 07/03/2020
ROBERT S.
United States
The best beard products!
Overall quality is second to none. Product is easy to apply and has the best smell of any other beard products out there!
06/28/2020
Ken C.
United States
Scents of a god
definitely a must to get! The scent stays with you all day long.
↑