FREE WORLDWIDE SHIPPING OVER $100
FREE SHIPPING TO USA & CANADA OVER $40
FREE SHIPPING TO EUROPE OVER €69
100% MONEY BACK GUARANTEE
A BETTER BEARD AWAITS
Helps Promote Healthy Beard Growth
Fights to Stop Beard Itch
Best Starting for starting products
Leaves beard feeling hydrated and smooth
100% ORGANIC
INGREDIENTS
HANDMADE
IN CANADA
NOT TESTED
ON ANIMALS
FREE WORLDWIDE SHIPPING OVER $100
FREE SHIPPING TO USA & CANADA OVER $40
FREE SHIPPING TO EUROPE OVER €69
100% MONEY BACK GUARANTEE
A BETTER BEARD AWAITS
&nbsp&nbsp Helps Promote Healthy Beard Growth&nbsp
&nbsp&nbsp Fights to Stop Beard Itch
&nbsp&nbsp Best for people starting out&nbsp&nbsp&nbsp&nbsp
&nbsp&nbsp Leaves beard feeling hydrated and smooth&nbsp&nbsp
---
COMMON QUESTIONS
Scruff Balm
designed for new beards, an ultra-light formula that is not too greasy and does not weigh down your growing beard. 1.7 fl. oz
Night Oil
This beard oil is for night use and contains a special blend of oils to keep your beard smooth, healthy and growing while you sleep. 1.01 fl. oz
Beard Wash
creates a lavish lather that brings softness and shine to your beard. This non-greasy formula is free from synthetic ingredients that can damage your beard. 4.06 fl. oz
Beard Brush
The brushes bristles are sourced and cut from nylon bristle material, that will help detangle the bushiest of beards, reducing frizz whilst naturally conditioning your beard.
Step 1 - Crimson Gentleman's scruff balm, a unique balm specially blend for men just starting to grow a beard. This light-weight formula stimulates healthy growth and keeps your skin soft and itch-free
Step 2 - Night Liquid Gold Elixir, created for evening use, add this nourishing oil to your beard to keep it hydrated overnight. Specially formulated oils lock in moisture and create shine and softness.
Step 3 - Marksmen Radiance Beard Wash, a nourishing beard shampoo creates a lavish lather that eliminates bacteria and pollution while bringing softness and life to your beard. 
It's really very simple: If you don't start with the right ingredients in your beard care products, you won't end up with the results you desire. Note* Not suitable for people with any nut allergy
BEESWAX
Beeswax forms a protective layer but unlike Petroleum based products it won't clog pores and it won't suffocate the skin. This protective layer will ward off negative environmental effects and reduce dryness by locking in moisture.
MACADAMIA OIL
this oil's fatty acids, vitamins, and antioxidants. It can help to prevent thinning hair, hair loss, and grey hair.
ALMOND OIL
Almond oil is rich in Vitamin E, potassium, zinc, proteins, and monounsaturated fatty acids. These properties are beneficial for increasing beard growth, eliminating dandruff, and reducing inflammation.
ARGAN OIL
Argan Oil is that it's rich with vitamins A, C and E, as well as being loaded with antioxidants, linoleic acid and omega-6 fatty acids. When applied externally, it can help boost cell production which results in healthier skin.
JOJOBA OIL
Jojoba is rich in vitamins and minerals that nourish hair, including vitamin C, B vitamins, vitamin E, copper, and zinc. moisturizes hair follicles, which prevents dryness that leads to hair loss.
RICE BRAN
Rice bran oil is rich in omega 3 and 6 fatty acids which help nourish the hair. If you happen to have frizzy beard, then bring this oil to your rescue by making it easily manageable.
SUNFLOWER OIL
Sunflower oil acts as a natural moisturizer because it's unfused with several vitamins and minerals, including high levels of Vitamin E that produces healthy hair growth.
SHEA BUTTER
Shea butter is filled with impressive vitamins including A, E and acts as a softener and is proven to give the skin essential nutrients as well as be a natural softener to your beard.
AVOCADO OIL
avocado oil contains healthy doses of vitamin E and B. Vitamin E is a good ingredient because it strengthens the hair follicles and repairs damage caused by harsh chemicals that may have been from prior products.
APRICOT KERNEL
Apricot Kernel oil has oleic acid, which is an omega-9 fatty acid and a wonderful beard softener. It actually moisturizes the hairs while increasing the hydration level and reducing dryness.
JAMAICAN CASTOR OIL
Improves Hair Strength. The omega-9 fatty acid and omega-6 fatty acids in Jamaican black castor oil improve blood circulation to the facial area, thereby encouraging hair growth
ESSENTIAL OILS
Essential Oils although some have benefits to healthy hair growth, it is used primarily in our products to add scent.
We lovingly developed the best smelling, organic. all natural scents that will have your beard smelling amazing.
---
ASGARDIAN SECRET
A woodsy intricate blend of sandalwood, vanilla and bergamot to give you a sensual, soft, harmonious, and exotically rich scent that promotes a vivid and euphoric sensation.
RAGNAROK FINALE
A sweet, opulent, warm, and sharp Vanilla and patchouli base with a smoky, and woody Cedarwood and balsam earthiness.
VALKYRIE'S OUD
A sweet, vinylic, and acrid Oud scent, with pleasingly luxurious, and sensual Vanilla note and a spicy, and sweet Bergamot aroma.
ODIN'S VIRTUE
A sweet intricate blend of apple, cinnamon and agarwood (oud) to give you a sweet, warm, charmingly woodsy, and alluring scent that lasts!
VIKING HONOUR
An exotic balance of suave, creamy, buttery nuances of Bergamot and Lime that are both intoxicating, and sweet, with notes of Peppermint which invites an energetic and invigorating sensation.
FREYA'S BLISS
A mellow, euphoric and calming ocean floraly Fresh essence with a hint pine that is both refreshing and uplifting with earthy Cedarwood and harmonious Lime undertones.
VIKING STORM
Strong masculine notes of oakmoss & musk blend with the freshness of apple & patchouli, while rich amber and soft hints of vanilla sensualise & seduce.
LOKI UNSCENTED
Just as the name suggests, a very low key (Loki) and unscented blend.
USA & CANADA
Free Shipping to USA on all Orders over $40
DISPATCH
All orders are shipped directly from our warehouses within 1-2 days.
UK
Over £39 Get FREE Shipping from London,UK.
SHIPPING TIME
Your product will arrive to most destinations within 5-7 business days.
EUROPE
Over €69 Get FREE Shipping from London,UK.
RETURN & REFUND
We offer a 100% satisfaction guarantee.
Please contact us for return requests.
REST OF THE WORLD
Over $100 USD Get FREE Shipping from London,UK.
Feel free to send us an email thebeardstruggle@thebeardstruggle.com and we will happily exchange the scent for you based on the collection (silver & gold) you ordered from.
Although near impossible that you won't, but if you are not satisfied with them you can easily return them for a full money-back guarantee.
THE BEARD STRUGGLE
STARTER KIT
Grow a long, flowing beard while
conditioning your skin when you use
The Beard Struggle Starter Kit
Customer Reviews
Write a Review
Ask a Question
Filter Reviews:
beard
products
smell
difference
Beard Struggle
starter kit
balm
results
scent
quality
07/30/2019
Jesse Q.
United States
Great Scent, Great Kit
I love this stuff. The oil, balm, and wash smell great. They make my beard feel incredibly soft and hydrated. The packaging is incredible and the containers themselves are great, solid quality. It's a really good product that you can tell they take seriously. The overall experience is amazing and well worth the money. I would recommend to anyone interested in stepping up their beard care game.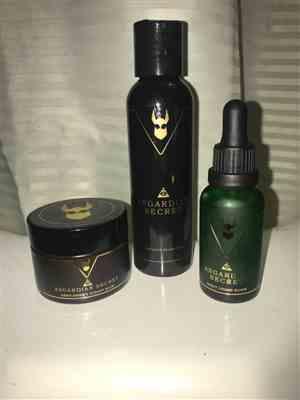 07/29/2019
Dante H.
United States
I'm getting more
It's taking me a while to write this because I wanted to really see what kind of effect it had on me. And I must say I'm really, excuse me impressed I'm very impressed. I've tried a lot of products all claiming do all kinds of things for your beards but yours have actually done what it said and granite there are some still some bald spot thin spots but overall it has come in thicker. but really threw it over the top was the fact that I was cutting my hair and I told my wife I needed to shave she turns around and looks at me and says no don't shave. It's been a while since she looked at me with lustful eyes with me having a beard. Normally she would tell me to shave it off I look like a man rugged but your product has really brought my beard out and she loves it I will definitely be buying more product.
07/15/2019
Job O.
United States
Improvement
I'm seeing some improvement but have to give it at least a month before I can give a clear review
Alpha
I've tried other beard products in the past. This time I wanted to start fresh. So, a few months ago I shaved clean and started fresh. After a bit I started to notice my Eyebrows and beard was starting to itch and flake. I put some time and money into what I buy for personal hygiene so I was getting a little pissed. Finally I seen this starter kit and liked the advertisement. It wasn't promising any gimmicks and it looked like they had some good fragrance options. So, I grabbed it. Shipping was quick and I started using it immediately. I like the smells and the flaking went away as soon as I started using it. I didn't realize how much moisture your beard takes out of your skin until I started using these products. Since ordering the starter kit (Odin's Virtue) I have also received the Ragnarock day time oil and balm as well as the Viking Sea. I like smelling good and looking high and tight when I leave the house. This stuff lasts all day (the scent) and it looks sharp. If you need good (gimmick free) beard product, buy it.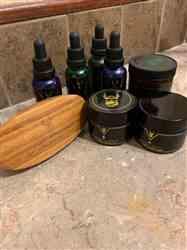 ↑