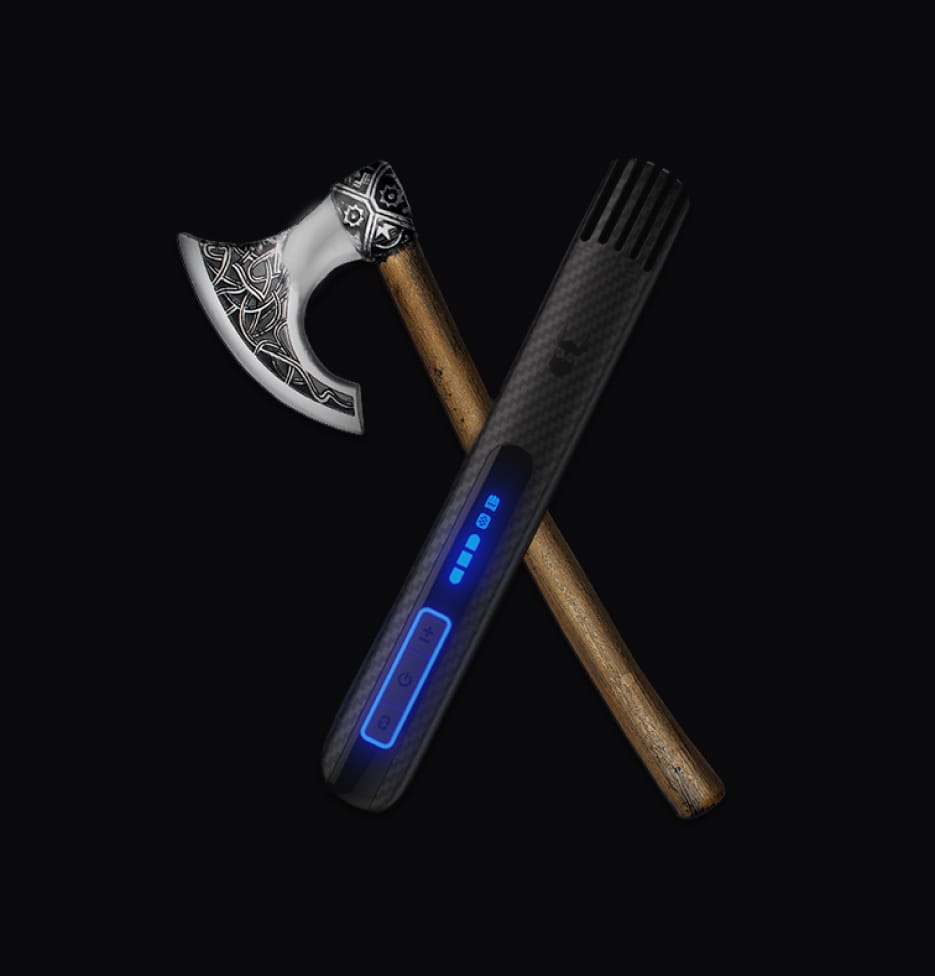 Inspired by Vikings. Powered by Technology.
Exotic, fearless, and powerful, the Vaeringjar were the only mercenary unit in history whose exploits can be counted in centuries. Formidable, durable, and enduring, these fearless axe-bearing warriors are where we drew our inspiration for our original Vaeringjar 3-in-1 Heated Beard Brush.
With Carbon X, we've taken everything that made our original design an outstanding success & upgraded it in every way possible.
Your Favourite Beard Tool. Now Reimagined.
With 3-in-1 functionality & three heat settings from 160-200° Celsius, Carbon X will brush, straighten & volumise beards of all shapes, sizes & styles.
Patented volumizer adds fullness to your beard
Shield X™ design protects your face from nasty scalds
Aesthetic in Form. Outstanding in Function.
Thanks to it's sleek lines, durable carbon fibre housing and minimal TBS branding, Carbon X looks at home on the counter of even the most luxurious modern bathroom.
Durable cool-touch carbon fibre housing
Updated design with improved ergonomics
Standing like a victorious Viking warrior on the included Mag X™ quick connect charging base, Carbon X is ready to go to battle against curly, creased & unruly beard hairs at a moment's notice.
Mag X™ quick connect charging base
Nano-particle silicone holds base in place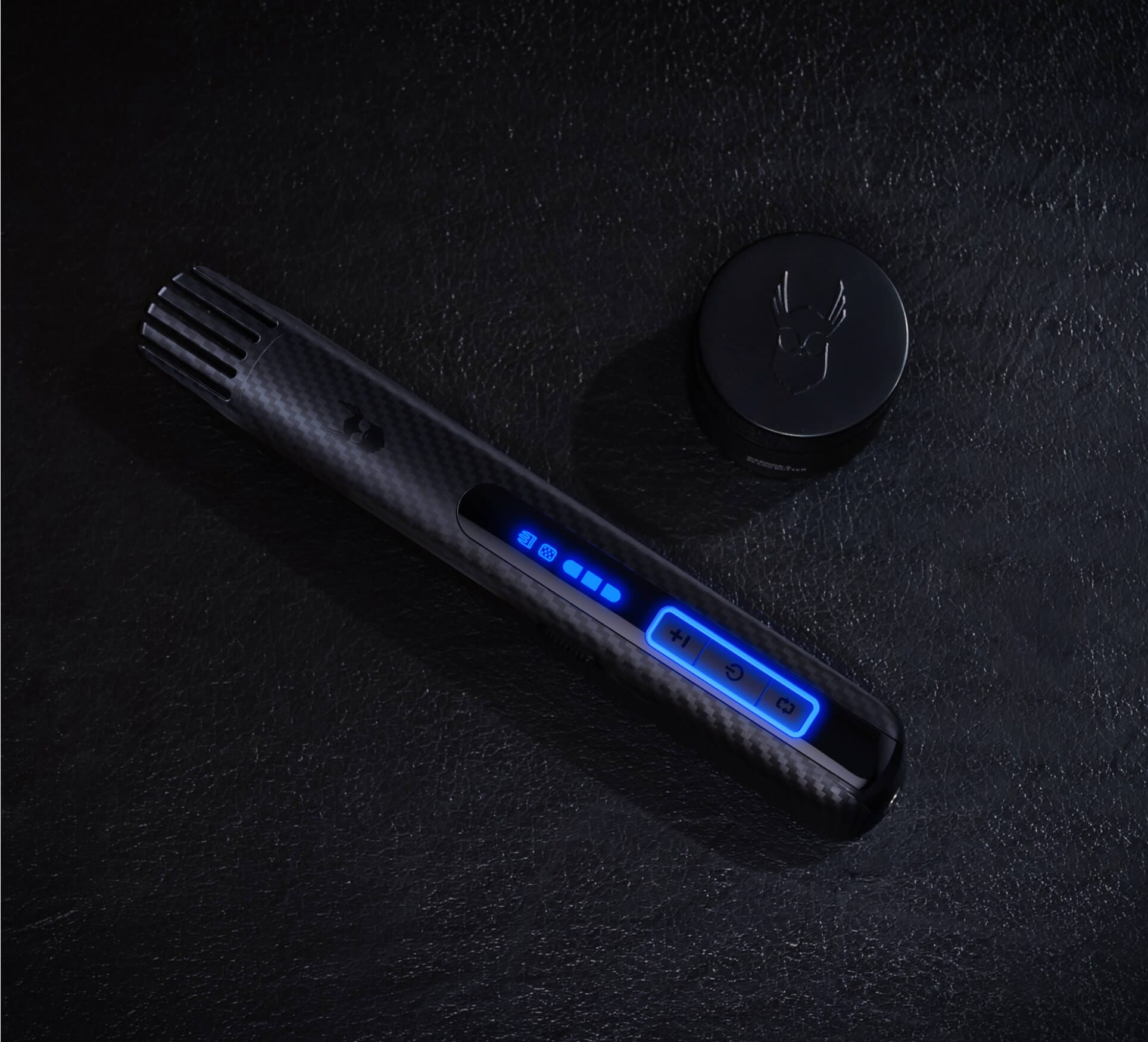 Quality Guaranteed
90 Day Money-Back Guarantee
If, for whatever reason, you decide that Carbon X doesn't match your expectations or just isn't right for you, we will refund your purchase within 90 days from the day that you received your order.
One Year Warranty
If your Carbon X does not work as expected, we will repair any parts or replace your heated beard brush entirely so that you can continue enjoying your best beard days; free from curly and unruly beard hairs.
By Beards For Beards
Carbon X was designed from scratch by our in-house team of beardsmen to be a tool that not only delivers immense straightening power, but also is aesthetically pleasing and a tool that they enjoy using every day.
The Modern Viking's Weapon of Choice
The massive 4500mAh battery delivers up to 40 minutes of continuous straightening power.
Away from home? The Mag X™ quick connect USB charging cable is perfect for charging your Carbon X on those long voyages at sea.†
Lay waste to unruly hairs 3x on a single charge
† Viking longship USB outlet installation not included
Thanks to the new mode selector control, Carbon X now heats up faster and lasts longer on a single charge.
Running late to your date with Hannah from the office? Set your brush to comb mode & be ready to show those unruly hairs who's boss in two minutes flat.
Choose between three modes of operation
From zero to ready to use in two minutes
Exclusive Launch Offer
Carbon-X Bundle
Exclusive Pre-Launch Offer
With Carbon X, we've taken everything that made our original design an outstanding success & upgraded it in every way possible.
Save big with our exclusive Carbon X Bundle.
Order today and you will receive:
Carbon X 3-in-1 Heated Beard Brush & Straightener
Mag X™ Quick Connect Charging Base + Magnetic Charging Cable
Mag X™ Power Adaptor
Viking Shield Heat Protectant Spray
TBS Microfibre Beard Towel
Viking Savage Beard Brush
You're saving
$64.98
buying the Carbon X Bundle
You're saving $65.00 buying Carbon X | Carbon Bundle
Exclusive Two Year Extended Warranty Offer
Choose your option:
- Data for this scent is not available
Exclusive Pre-Launch Offer
Save an additional 20% with code: CARBONX
Sorry this offer cannot be combined with any other promotions or discount codes.
FAQs
Your order will ship on or before December 7, 2021.
Can I cancel my order before it ships?
You can modify or cancel your order before it is dispatched. To do so, please contact our Customer Service team via Live Chat or email support@thebeardstruggle.com
What payment methods do you accept?
We accept most major credit cards. Express payments with Apple Pay, Google Pay, Amazon Pay and Shop Pay are available at checkout. Afterpay, Klarna & Sezzle buy now pay later options are available for customers within the US.
How do I use the Carbon X as part of my beard grooming routine?
Wash your beard with Radiance Beard Wash & Conditioner. Towel dry your beard & then spray with Viking Shield Heat Protectant Spray. Let dry & you're ready to experience the beard straightening power of Carbon X. After straightening, follow with Day Liquid Tonic and Warrior's Beard Butter or Beard Balm.
- 1x Carbon X 3-in-1 Heated Beard Brush + Straightener
- 1x Mag X™ Quick Connect Charging Base
- 1x Mag X™ Quick Connect Magnetic Charging Cable
- 1x Power Adaptor
- 1x Micro-fibre Carbon X Protective Sleeve